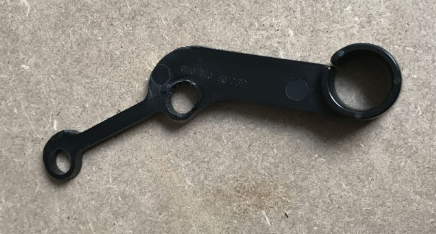 Cable guide
3. November 2018
When you install the Rade Garage fairing, there is no guide for the speedo and ABS cables. The result is that the cable keeps rubbing against the fairing, navigationtower and handlebar brackets. This will lead into wear eventually. There is no danger that the cable will catch something during operation, so it's more of a better safe-than-sorry kinda improvement.
Rade Garage took this feedback serious and has just past week released a solution. This solution is made of a steel bend cable guide. They do supply this cable guide in every kit they sell from now on. Sow that's nice.
It's also for sale as an upgrade for 18 euro's, shipping included.
However, I'm not so keen on making a cable guide out of steel. I did remember the cable guide that used to be on my KTM 640 Adventure. So I searched for the partnumber on the fichefinder. With the partnumber, Google gave me some nice pictures, that supported my thoughts that this could be a proper solution.
When I brought my bike to the dealer for it's first maintenance, it appeared they even had this part in stock. So for only 2,50 euro I took it home and got cutting and drilling 🙂
The part used has KTM-partnumber: 59008019000 or 590.08.019.000