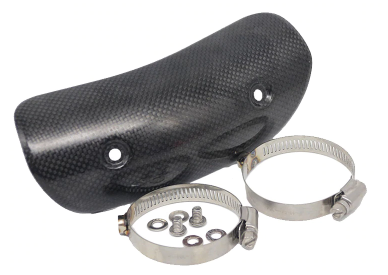 Stop burning pants: add a heat shield
4. November 2018
After five rides i've allready burned two holes in my MX-pants. Both times this happened when pushing the bike on a trail. Moving it along to help a riding buddy or making a turn on a tight path. When standing next to the bike, I touch the exhaustpipe with my right knee. After some searching for solutions, this one I think suits the best.
I've found a nice shaped carbon heatshield that was long enough and slightly bend. This heat shield is attached with large hose clamps with a nut welded on to it.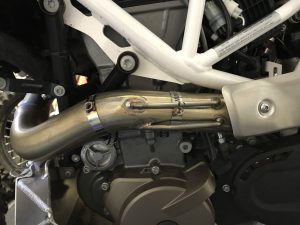 Because of the two heat-shield-like bars welded on the exhaust, the bolts are not long enough. So I had to find some longer stainless steel M6 bolts and cut them at the right length. It is a bit fiddling around to get the rear clamp hose positioned between the bars. But it does fit.
This is where I got this heat shield for only 26 euro, shipping included.