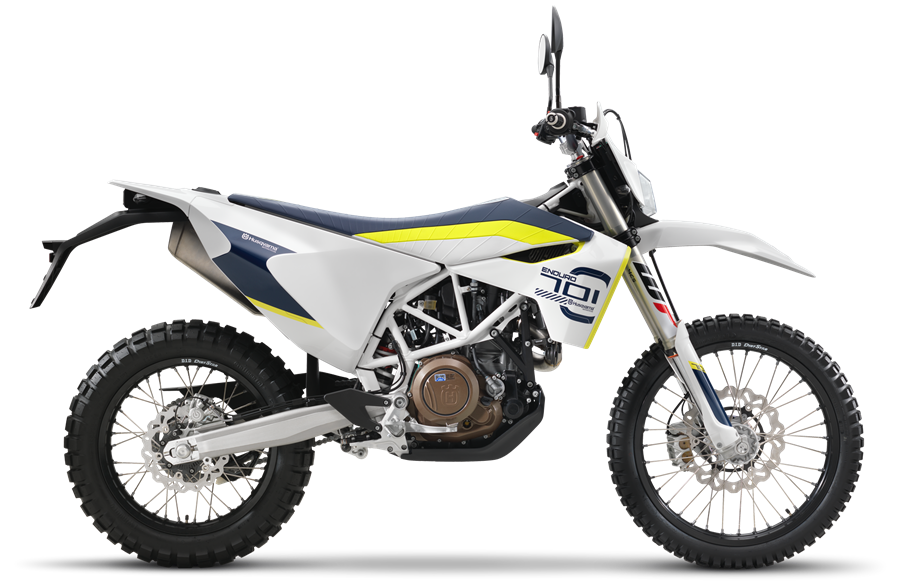 My next bike. A white KTM?
10. June 2018
When I came in touch with allroad motorriding back in 2004, I realized fast that a good bike is necessary to compensate my driving skills. Especially the suspension is critical and has to be top of the crop. This was one of the main considerations for my first real offroad-capable bike.
The choice for my first proper offroad-capable dualsport motorbike was a KTM LC4 640 Adventure.
KTM LC4 Adventure
This bike fitted like a glove. Best bike-choice ever so-far. From allroad riding I went to proper offroad and rally racing with this bike. Daytrips, Midsummer1000's, long-weekends and two-week trips to Marocco in 2006 and 2007, Eastern Europe Rally in 2008 and an offroad trip for two weeks in  Spain in 2009 are filed in the cabinet 'golden memories'.
In 2010 I realized that the time for proper multi-day trips and vacations would be very rare. And… I had the wish for riding rally raids. That's where my just-average riding skills kick in, I realized that I needed a light-weight bike. So I bought myself a KTM EXC450 RFS in december 2010.
KTM EXC450
With this bike my focus shifted towards offroad riding. Technical stuff, climbs, the loose sand in the Nederlands all childsplay with this bike. The few days a year that I ride my EXC all end with a big smile and an exhausted owner. The fact that i'm only driving my bike a few days a year, are a result of my choice for a family 🙂 and most of all a four year study next to my fulltime job.
My study will end in january 2019. And that's when I will rearrange my priorities. More time for motorcycles. Yeah!
Next bike
Okay. So more time, longer trips. My EXC will stay. But for allroad riding I need want (oh well, first-world problem) another bike like my Adventure. The KTM 690 Enduro would be a possible candidate. But then just a few years ago I noticed that Husqvarna made a white KTM 690 that goes by the name Husqvarna 701 Enduro. The 701 has the 'new' Duke type engine since the 2017 models. This is a very powerfull, maybe even the most powerfull single-cylinder production engine. Besides that, I simply like the white, yellow, blue color more. So, I guess my next KTM will be white.
It has crossed my mind that I should buy a two-cylinder bike. There are two 'light-'weight bikes about to hit the dealers early 2019, that have a certain appeal to me: the KTM 790 Adventure and the Yamaha T7.
But then again, I want a true lightweight bike. 200 KG's for a two cylinder versus max 150 KG's for a single. So my choice has fallen on a Husqvarna 701 Enduro. This will be my next bike. I'll give this to myself as a gift when I get my bachelors degree on IT & Business.